Bradley Lowery died. His Neuroblastoma eventually beat him. But he didn't go down without a fight.
For those who don't know who Bradley was I have one word to describe him:
Hero.
Bradley Lowery was a six year old boy, from the North East of England who got the whole world talking.
He was the little boy who asked the internet for Christmas cards last year – he got hundreds of thousands of them.
He was the little boy who loved Sunderland Football Club. He was the little boy who won the heart of Jermaine Defoe and countless others as his fight for survival gained media coverage. His fundraising page secured sufficient funds to send him to America for hopefully life saving treatment – alas it was in vain. He was the little boy who united rival football teams and fans with the simple message that "Cancer has no colours"
He was the little boy who lost his war despite winning a multitude of battles, and in doing so created a legacy of hope.
A week ago last Thursday Jermaine Defoe broke down when asked about Bradley and said that he had "a matter of days" – as it turned out he had only a matter of hours. Bradley died on Friday afternoon and his funeral was held today.

Not so much a funeral, more a celebration of his short life. A life spent undergoing treatment after treatment – all of which proved futile, but all of which he underwent with a smile – this smile:


It was his smile and courage that were the forces behind the overwhelming love he encountered from those who followed his fight.
His attachment to his footballing hero Jermaine Defoe was unstinting and he clung to him during his on-pitch appearances: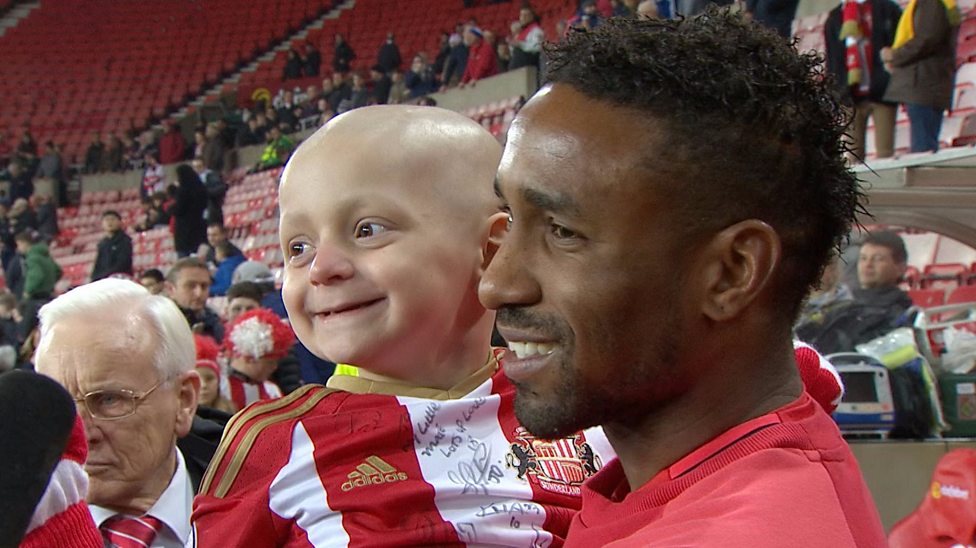 His legacy, as I said, is one of hope. What I find inspirational is that this little boy, whose smile was as wide as his cancer was vicious, should inspire hope in so many when he himself had no hope of recovery. Perhaps he didn't know, or fully understand his own plight, perhaps he did and simply wanted to give his hope away to others who might win where he sadly lost.
I have cried, as have countless others who were touched by Bradley's courageous fight and his inspirational smile, and I don't just mean shedding a little tear, I mean full blown, snot inducing, sobs over this little boy. I didn't know him or his family, I only saw what was shown on the national and local news and in our local papers, so I have no answer as to why his death has affected me so much. Perhaps it's a culmination of many months of coverage of his fight, perhaps it's his very young age, perhaps it's knowing that, if faced with a similar plight, I wouldn't be anywhere near as strong as he was.
I hope he is now at rest and free of pain and I hope that he knows the impact his short life had on so many others.
Read more about Bradley and support his legacy foundation here: https://bradleylowerysfight.org.uk/